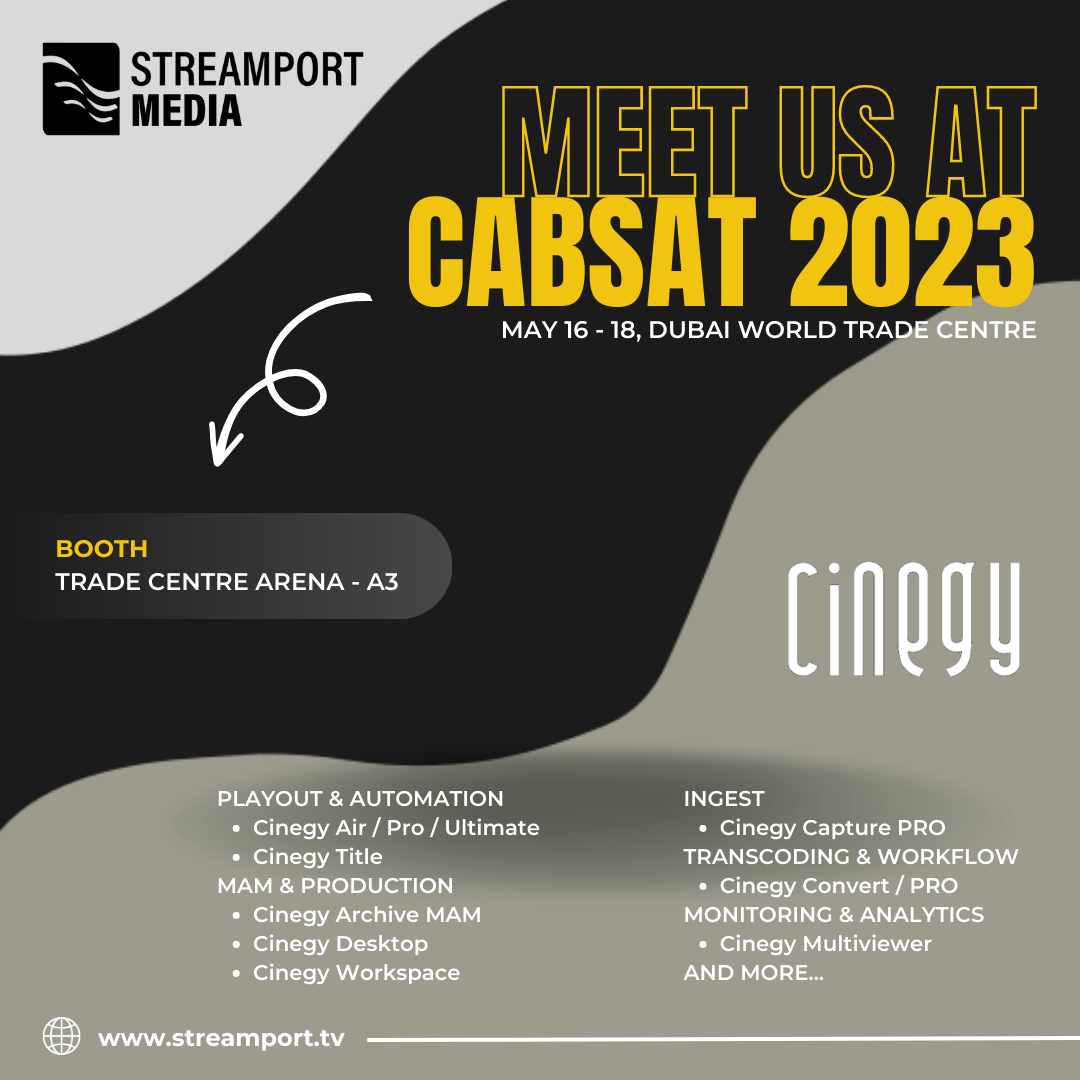 Streamport Media is thrilled to announce its participation in CABSAT 2023, one of the most prominent events in the media and entertainment industry. Taking place from May 16-18 at the Dubai World Trade Center, this highly anticipated exhibition will serve as a platform for us to showcase our exceptional range of brands. As an authorized distributor, we are excited to bring Cinegy, a leading name in media and television software and technologies, to the forefront.
Introducing Cinegy Workflow: Revolutionizing Media Management
At our booth, Streamport Media - Trade Centre Arena - A3, we will shine a spotlight on Cinegy's flagship product, Cinegy Workflow. This innovative software platform integrates digital asset management, video ingest and encoding, broadcast automation and playout, production tools, and archive storage and retrieval into one cohesive database-driven production workflow.
A Decade of Excellence: Evolution and Innovation
The journey of Cinegy Workflow began over 10 years ago with the vision of creating a comprehensive digital archive, asset management, and production environment. Leveraging desktop PC hardware for the front-end and standard IT server equipment for the back-end, Cinegy Workflow was designed to seamlessly integrate into existing network infrastructures. This forward-thinking approach, which laid the foundation for today's workflow, included accumulating metadata from the outset to ensure a complete lifecycle for media assets, continually adding value throughout their existence.
Enterprise-Level Solutions: Scalable, Resolution Independent, and Storage Agnostic
Cinegy Workflow stands out as an enterprise-level system that is resolution independent, storage systems agnostic, highly scalable, and built on an open architecture. Its versatility and adaptability have led to the integration of additional elements such as news integration, broadcast automation, and playout, making it a comprehensive solution for media professionals.
Visit Streamport Media at CABSAT 2023:
We invite you to visit our booth at CABSAT 2023 to witness the power and potential of Cinegy Workflow firsthand. Get an exclusive sneak peek at our latest offerings and discover how our cutting-edge solutions can elevate your business to new heights. Our experienced team will be available to answer your questions, provide in-depth demonstrations, and explore customized solutions tailored to your unique needs.
Conclusion:
CABSAT 2023 offers a remarkable opportunity to explore the latest advancements in media and entertainment. Streamport Media, alongside Cinegy, is proud to be a part of this prestigious event, showcasing the transformative capabilities of Cinegy Workflow. Join us at our booth, StreamPort Media - Trade Centre Arena - A3, and unlock the full potential of media and television software for your business.
Don't miss out on this exclusive opportunity to meet our team, witness groundbreaking technology, and take your business to the next level. We look forward to welcoming you at CABSAT 2023!