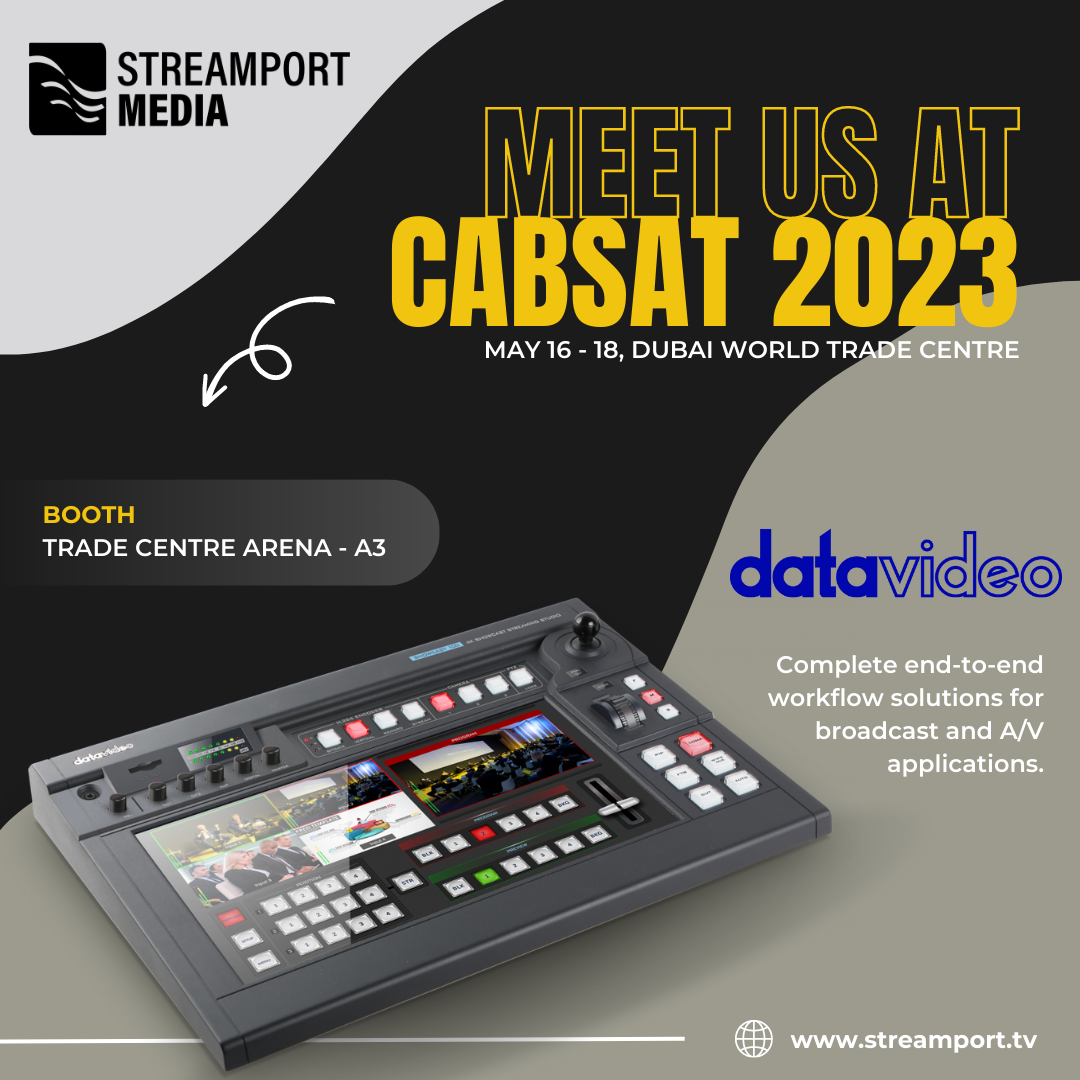 Exciting news awaits! StreamPort Media is thrilled to announce our participation in CABSAT 2023, the premier event for the broadcast and A/V industries. Join us from May 16-18 at the esteemed Dubai World Trade Center, where we will be showcasing our extensive range of brands, each contributing to the advancement of the live video production landscape.
As an authorized distributor, we are proud to present Datavideo, a renowned name in the industry for its affordable end-to-end workflow solutions. With a portfolio of up to 150 products, Datavideo offers a comprehensive range of cameras, switchers, encoders, recorders, intercoms, converters, and other essential tools required for live video production. Whether you're in broadcast, house of worship, education, live concert events, e-sports, or self-media production, Datavideo has the perfect solution for your needs.
What sets Datavideo apart is their commitment to providing complete professional live video solutions under one brand name. Integrators, production companies, and end-users can benefit from the seamless integration and compatibility of Datavideo products, ensuring a streamlined workflow and exceptional results. From capturing stunning visuals to delivering immersive live experiences, Datavideo empowers creators to bring their visions to life.
We invite you to visit StreamPort Media's booth located in Trade Centre Arena - A3, where you will have an exclusive opportunity to get a sneak peek of our latest offerings from the Datavideo brand. Immerse yourself in the world of professional live video production and explore the possibilities that Datavideo's cutting-edge solutions can unlock for your business.
Don't miss out on the chance to meet our dedicated team of experts, who will be on hand to provide personalized demonstrations, answer your questions, and guide you through the features and benefits of Datavideo products. This is your opportunity to take your business to the next level and stay ahead in the rapidly evolving world of live video production.
Mark your calendars for May 16-18 and join us at CABSAT 2023. Experience the power, versatility, and affordability of Datavideo's end-to-end solutions firsthand. Network with industry professionals, gain insights into the latest trends, and discover how Datavideo can elevate your live video production capabilities.
StreamPort Media is committed to delivering exceptional customer experiences and providing the tools you need to succeed. We are excited to share our expertise and help you navigate the ever-changing landscape of live video production.
Don't wait! Make sure to visit us at StreamPort Media's booth - Trade Centre Arena - A3. Unleash the potential of Datavideo's professional live video solutions and let us help you create extraordinary content that captivates your audience.
We look forward to meeting you at CABSAT 2023!