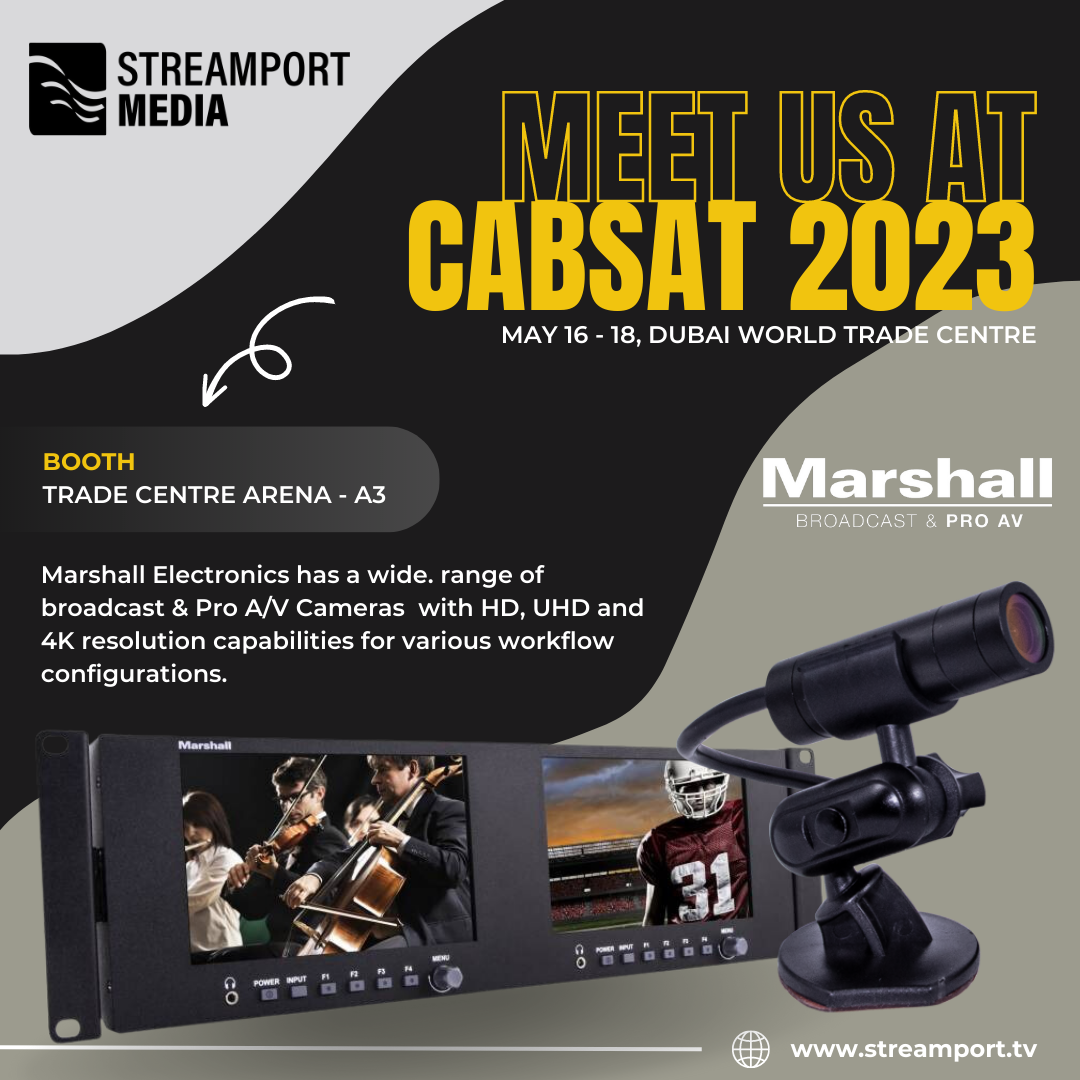 Exciting news is buzzing in the world of professional audio and video technologies! StreamPort Media is thrilled to announce its participation in CABSAT 2023, the premier event for the broadcast and content creation industries. From May 16-18, at the prestigious Dubai World Trade Center, StreamPort Media will be showcasing an impressive lineup of brands that are revolutionizing the industry. As an authorized distributor, StreamPort Media proudly presents Marshall Electronics, a renowned leader in professional audio and video solutions.
A Legacy of Excellence:
With over 40 years of experience, Marshall Electronics, Inc. has established itself as a global provider of cutting-edge technologies. Their solutions cater to a wide range of industries, including broadcast TV, corporate AV, Unified Communications (UCC), studio audio production, and industrial OEM. As a privately-owned American company, Marshall Electronics encompasses four distinct operating units: Marshall Broadcast & AV, Marshall Optical Systems, MXL Microphones, and Mogami Cable & Connectors. With manufacturing facilities in the US, China, Japan, and Korea, Marshall Electronics stands as a trusted name in the industry.
Marshall Broadcast & AV: Unleashing Creativity and Reliability:
Marshall Broadcast & AV, a globally recognized and award-winning brand, takes center stage at CABSAT 2023. Their high-performance and reliable products have become synonymous with live broadcast TV, integrated AV, and cinema production. Whether you're a broadcaster, content creator, or AV professional, Marshall Electronics offers a range of solutions designed to enhance your audio and visual experience.
Explore the Latest Offerings:
At StreamPort Media's booth in Trade Centre Arena - A3, you'll have the exclusive opportunity to get a sneak peek of Marshall Electronics' latest offerings. Immerse yourself in the world of cutting-edge technology and witness firsthand how Marshall Electronics can elevate your audio and visual capabilities. From professional broadcast monitors to advanced cameras and accessories, Marshall Electronics provides the tools you need to capture, produce, and deliver exceptional content.
Meet the Experts, Ignite Collaboration:
Don't miss out on the chance to meet the StreamPort Media team and the knowledgeable representatives from Marshall Electronics. Engage in insightful conversations, discuss your specific requirements, and gain valuable insights into the latest trends and innovations. This is your opportunity to take your business to new heights and stay ahead in the ever-evolving audio and visual landscape.
Unlock the Future:
Mark your calendars for May 16-18 and join StreamPort Media at CABSAT 2023. Experience the power, precision, and reliability of Marshall Electronics' solutions firsthand. Network with industry professionals, explore groundbreaking technologies, and discover how Marshall Electronics can transform your audio and visual workflows.
StreamPort Media is committed to delivering exceptional customer experiences and providing the tools you need to succeed. We are excited to share our expertise, offer live demonstrations, and help you navigate the dynamic world of professional audio and video technologies.
Don't miss out on this exciting opportunity! Visit StreamPort Media's booth - Trade Centre Arena - A3 - and unlock the endless possibilities of Marshall Electronics' solutions. Let us help you create captivating content that captivates your audience and takes your projects to new heights.
We look forward to meeting you at CABSAT 2023!