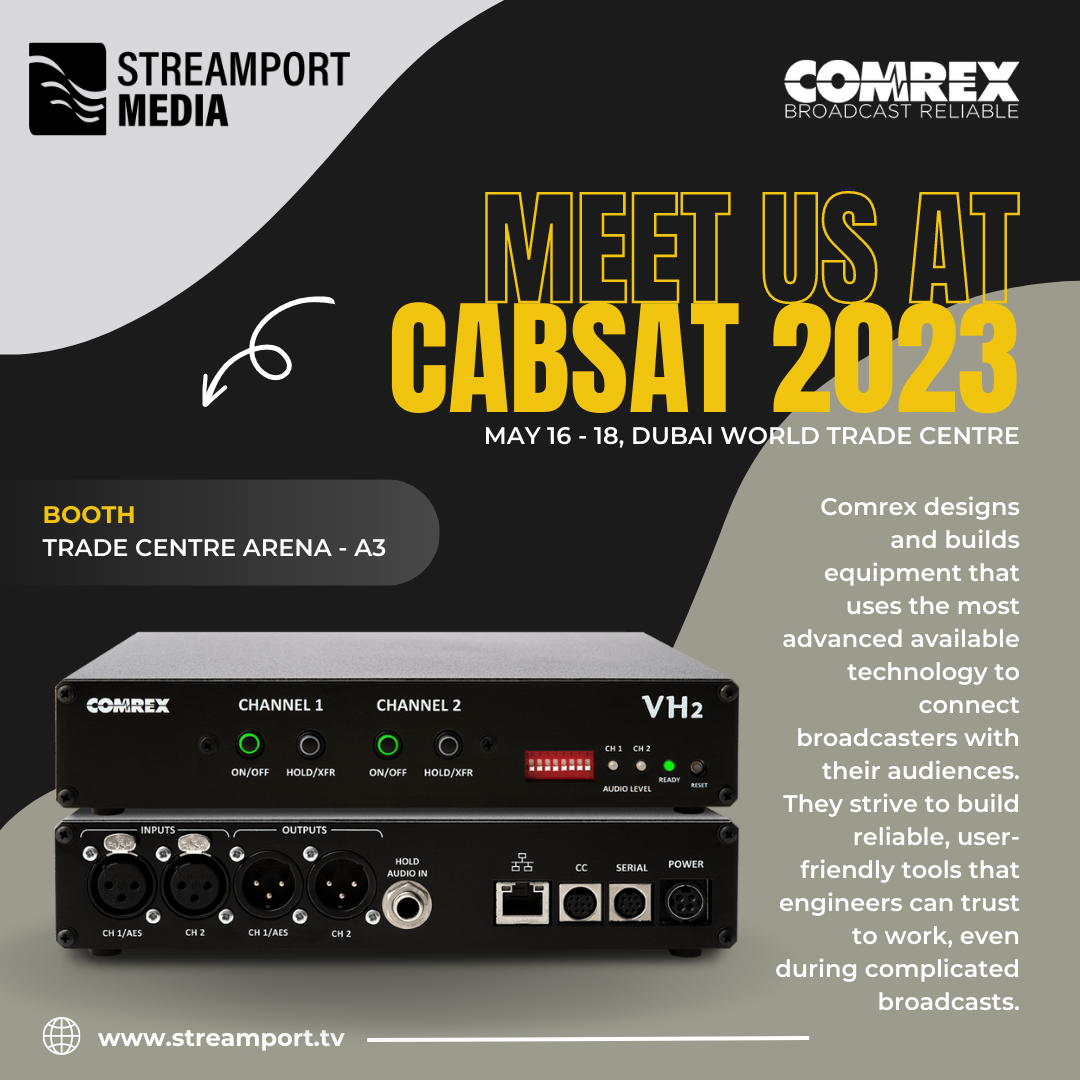 The world of broadcasting is evolving at a rapid pace, and StreamPort Media is at the forefront of this transformation. We are thrilled to announce our participation in CABSAT 2023, the premier event for the broadcast and content creation industries. From May 16-18, at the esteemed Dubai World Trade Center, StreamPort Media will showcase an array of innovative brands that are shaping the future of broadcasting. As an authorized distributor, we are proud to present Comrex, a company that has been revolutionizing the industry since 1961.
Reliable Broadcasting Solutions:
Comrex is dedicated to connecting broadcasters with their audiences by utilizing the most advanced technology available. With a strong commitment to reliability and user-friendliness, Comrex designs and builds equipment that engineers can trust even during complex broadcasts. Comrex's mission is to make it easy for broadcasters to create the programming they are passionate about, empowering them to deliver high-quality content to their audiences.
Leading the Technological Advancements:
Throughout their long history, Comrex has been at the forefront of technical development, often using new and innovative technologies for radio and television before they become mainstream. Their expertise shines through in their range of products, which leverage the latest advancements to deliver exceptional broadcasting experiences.
Sophisticated Audio Transmission:
Comrex's ACCESS and BRIC-Link IP audio codecs exemplify their commitment to reliable broadcasting over challenging IP networks. These codecs utilize sophisticated audio transmission technology to ensure seamless broadcasts, even in the face of network complexities. With Comrex, broadcasters can trust that their audio will reach their audience with exceptional clarity and reliability.
Innovative Video Transmission:
Building on their years of experience in IP technology, Comrex has developed their CrossLock tools, which handle the unique demands of transmitting video. The LiveShot IP video technology showcases Comrex's dedication to pushing boundaries and delivering cutting-edge solutions for video broadcasting. With LiveShot, broadcasters can transmit high-quality video over IP networks, enabling them to cover events and connect with their audience in new and exciting ways.
Continual Innovation:
Comrex continues to refine their telephone hybrid technology with products like VH2, ensuring crystal-clear audio for phone interviews and call-ins. Additionally, they break new ground with products like Opal, which simplifies the process of connecting guests to a broadcast through the internet, eliminating the need for complicated setups and technical hurdles.
Visit StreamPort Media at CABSAT 2023:
Make sure to visit StreamPort Media's booth, located in Trade Centre Arena - A3, during CABSAT 2023. This is your exclusive opportunity to get a sneak peek of Comrex's latest offerings. Immerse yourself in the world of cutting-edge broadcasting technology and discover how Comrex's innovative solutions can take your business to the next level. Meet our dedicated team of experts who will be on hand to provide personalized demonstrations, answer your questions, and guide you through the features and benefits of Comrex products.
Don't miss out on the chance to witness the future of broadcasting. Mark your calendars for May 16-18 and join StreamPort Media at CABSAT 2023. Experience the reliability, innovation, and unparalleled broadcasting capabilities of Comrex. Together, let's shape the future of the industry and unlock new possibilities for broadcasters worldwide.
We eagerly await your presence at CABSAT 2023. See you there!