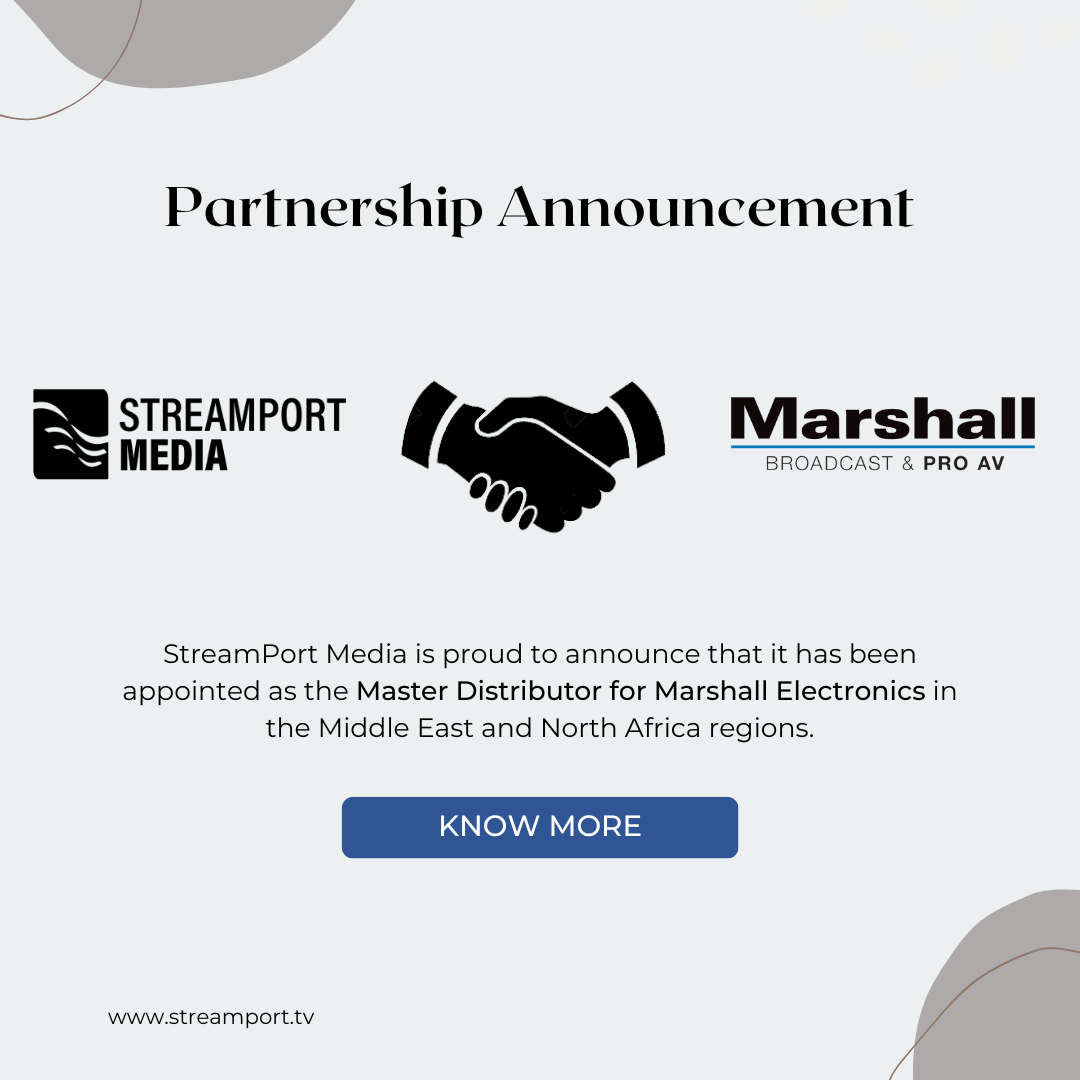 A Partnership to Bring Innovation and Hassle-Free Distribution Together
StreamPort Media, a leading audio and video equipment distributor, is pleased to announce that it has become the master distributor for Marshall Electronics in the Middle East and North Africa. This partnership is to provide clients with innovative and industry-first audio and video equipment. We aim to offer top-notch and upgraded devices and help content creators produce high-quality content.
"Marshall has admired and supported Streamport Media for over a decade as a reliable supplier for broadcast and proAV equipment within the region," says Tod Musgrave, Director of Cameras, "so it was only natural for them to become our authorized Master Distributor for local wholesale supply, technical support and coverage in the Middle East and Africa".
With this collaboration, we have signed a memorandum of business alliance on the basis of commitment to the clients. With StreamPort Media's marketing and distribution and Marshall Electronics' wide range of products, we aim to offer a hassle-free and profitable experience to the end users.
For over 40 years, Marshall Electronics, Inc. has been a leading worldwide provider of professional audio and video technologies for broadcast TV, professional AV, Unified Communications (UCC), and Industrial OEM. Marshall Electronics is a globally recognized and award-winning brand designing and producing high performance and reliable cameras, audio/video monitors, media converters and supported equipment.
Marshall Electronics has introduced the next generation of their POV cameras, featuring a newly optimized Sony sensor that takes their technology to new heights. These upgraded models offer enhanced video performance, delivering cleaner, crisper images, improved pixel sensitivity, and superior color reproduction. With the integration of high-end processors, the signal structure is further refined, providing greater depth in remote adjust and match capabilities. The first camera to undergo this upgrade is the Marshall CV226 All-Weather Lipstick camera, which has now transformed into the CV228 All-Weather Lipstick Camera. The CV228 boasts 3GSDI, remote adjust/match functionality, swappable lenses, and overall improved video performance. It also offers firmware updates in the field, similar to other Marshall POV cameras. Designed with durability in mind, the CV228 features additional cable reinforcement and flexibility to withstand heavy usage.
Marshall has plans to transition several other models to this new design, including the CV503 to CV504, CV506 to CV508, and CV344 to CV348. Furthermore, Marshall introduced two new POV camera models: the miniature CV570 and compact CV370. These cameras come equipped with NDI|HX3 network capability using standard IP and SRT codecs. The CV570 and CV370 utilize the same lenses and incorporate the new Sony sensors found in other Marshall POV cameras. With their larger physical pixel size, these cameras capture more light information, enabling greater sensitivity in low-light environments and the ability to reach into the IR wavelengths when necessary. Marshall's latest POV cameras are set to further elevate live production workflows, solidifying their position as an industry standard.
StreamPort Media partners with the best manufacturers and brands to offer efficient broadcasting solutions. With decades of experience, we understand what the creators, broadcasters, and our other clients want. The sole purpose of partnering with Marshal Electronics is their broad range of broadcast and Pro A/V cameras with HD, UHD, and 4K resolutions. The company's audio and remote conferencing products are best sellers in the Middle East and North Africa.
Marshal Electronics will manufacture quality video and audio products, and we will be responsible for delivery and logistics after expanding its reach beyond the Middle East and North Africa. With this partnership, StreamPort Media will now offer customers in the Middle East and North Africa region access to Marshall Electronics' complete line of products, including cameras, monitors, and accessories.