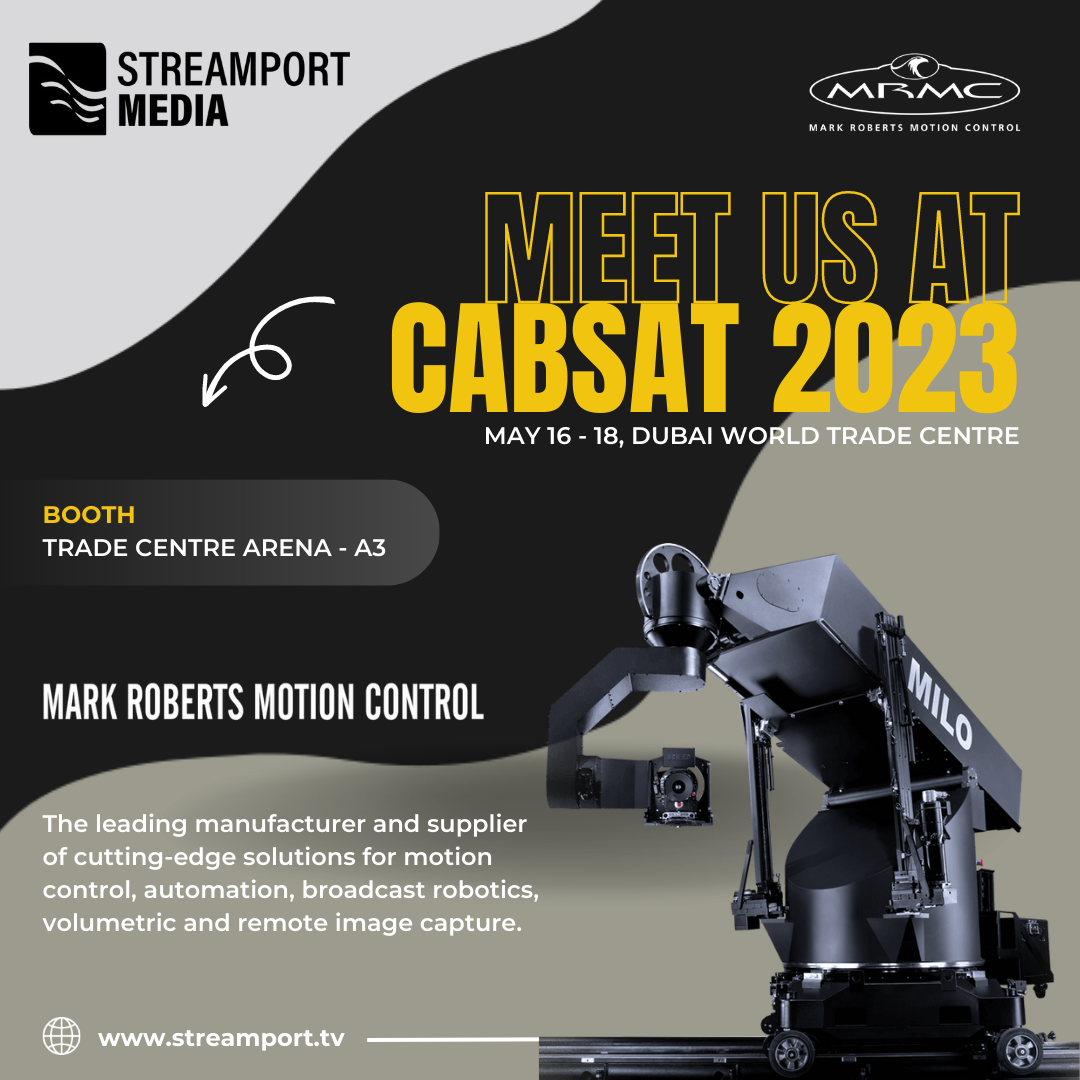 Streamport Media is excited to announce its participation in CABSAT 2023, the leading event in the world of broadcast, satellite, and entertainment media. Held from May 16-18 at the Dubai World Trade Center, this highly anticipated exhibition provides the perfect platform for us to showcase our impressive lineup of brands and cutting-edge solutions. As an authorized distributor, our spotlight will be on MRMC (Mark Roberts Motion Control), a renowned industry leader in motion control, automation, broadcast robotics, volumetric and remote image capture.
Unleashing Creativity with MRMC:
At Streamport Media's booth, we are proud to present MRMC's award-winning products that empower creative professionals to bring their vision to life. With precision, speed, and efficiency, their cutting-edge solutions revolutionize motion control, broadcast, and product photography. Whether you have specific requirements or are working within a particular budget, MRMC has the perfect solution for you.
British Excellence with Global Reach:
One of the key factors that sets MRMC apart is their commitment to excellence. With design, manufacturing, and assembly all taking place at their UK facility in Surrey, their products bear the mark of British craftsmanship. Their exceptional quality and innovation have earned them international recognition, and in February 2018, MRMC was honored with The Queen's Award for Enterprise: International Trade.
Visit Streamport Media at CABSAT 2023:
We cordially invite you to visit our booth, StreamPort Media - Trade Centre Arena - A3, at CABSAT 2023. Experience firsthand the power and potential of MRMC's cutting-edge solutions and get an exclusive sneak peek at our latest offerings. Our dedicated team will be on hand to answer your questions, discuss your specific requirements, and explore how our solutions can take your business to new heights.
Conclusion:
CABSAT 2023 presents an incredible opportunity to immerse yourself in the world of media, broadcasting, and entertainment. Streamport Media, along with our showcased brand MRMC, is thrilled to be part of this prestigious event. Join us at our booth to witness the future of motion control, automation, broadcast robotics, and much more. Together, let's unlock the endless possibilities and embark on a journey of innovation and success.
Don't miss out on this exciting opportunity! See you at CABSAT 2023!