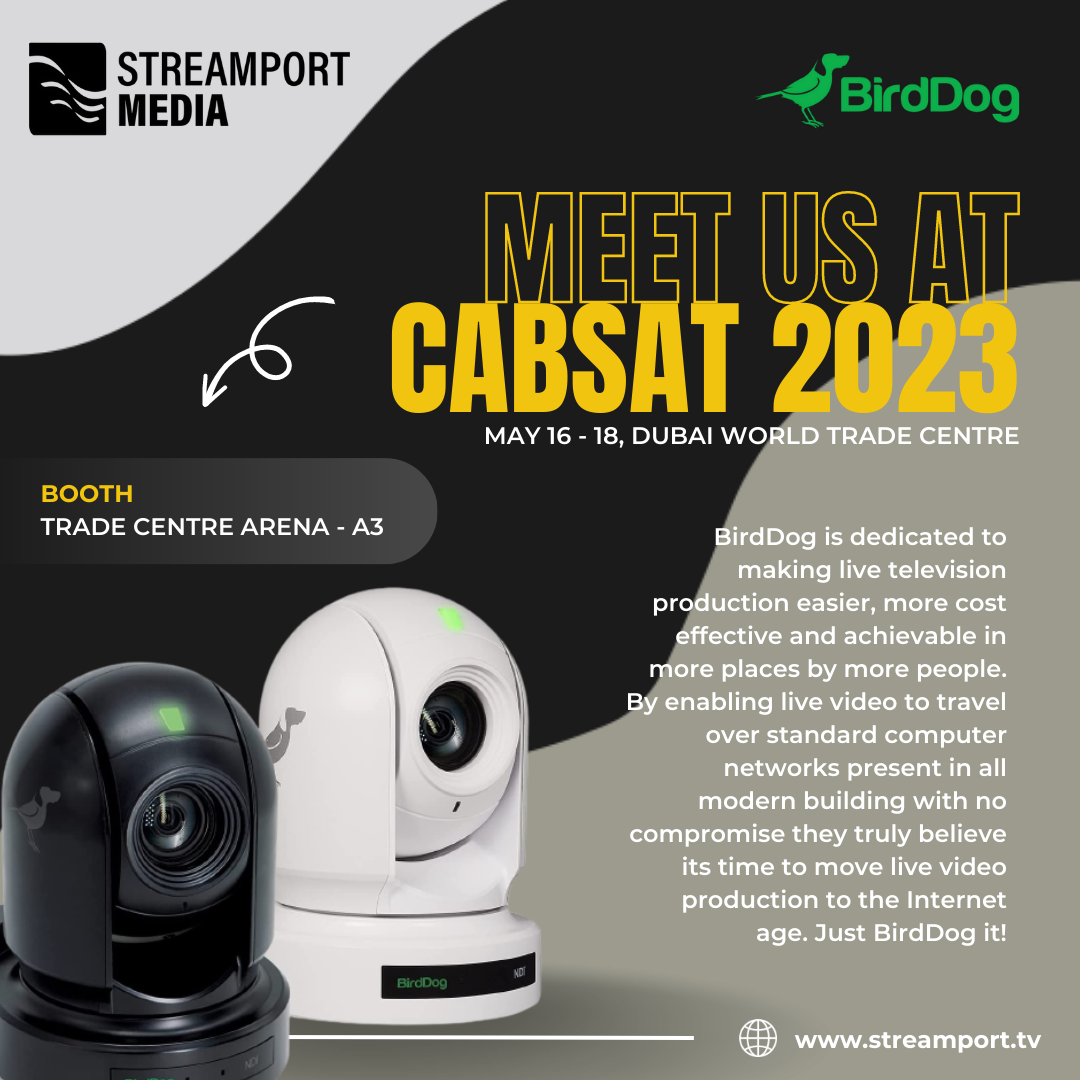 StreamPort Media is thrilled to announce our participation in CABSAT 2023, the premier event for the broadcast and content creation industries. Join us from May 16-18 at the esteemed Dubai World Trade Center, where we will be showcasing an impressive array of brands that are revolutionizing the world of live television production.
As an authorized distributor, we are proud to present BirdDog, a leading innovator in live video production solutions. Born in Melbourne, Australia, BirdDog is on a mission to make live television production easier, more cost-effective, and accessible to a wider audience. With their groundbreaking technology, BirdDog enables live video to travel seamlessly over standard computer networks found in modern buildings, eliminating the need for complex infrastructure. It's time to bring live video production into the Internet age – just BirdDog it!
BirdDog operates a global sales and support channel to ensure that customers worldwide can easily access their solutions and receive exceptional support no matter where they are located. With their commitment to customer satisfaction and continuous innovation, BirdDog has become a trusted name in the industry.
We invite you to visit us at StreamPort Media's booth located in Trade Centre Arena - A3, where you'll have an exclusive opportunity to get a sneak peek of BirdDog's latest offerings. Immerse yourself in the cutting-edge technology that is transforming live television production and take your business to the next level.
Don't miss out on this chance to meet our dedicated team, network with industry experts, and explore the limitless possibilities of BirdDog's solutions. Whether you're a seasoned professional or just venturing into the world of live television production, CABSAT 2023 is the perfect platform to expand your knowledge and discover groundbreaking technologies.
Join us at StreamPort Media's booth and experience firsthand the power and simplicity of BirdDog's live video production solutions. We are excited to share our expertise, offer demonstrations, and discuss how BirdDog can revolutionize your workflow.
Mark your calendars for May 16-18 and be prepared to embark on an extraordinary journey into the future of live television production. Together, let's redefine the possibilities and reshape the way we create and deliver captivating content.
We can't wait to see you at CABSAT 2023!