Product Highlights:
Store geotagged media (KML files) and view in Google Earth
HDMI + HD-SDI Inputs and Outputs
Full HD and SD Overlays
PROTEUS-PLUS includes all the features of PROTEUS-ESSENTIAL and the ability to create geotag media.
Geotagging is the process of syncing geographical data such as latitude, longitude, time, date, video time code (VTC), altitude, bearing, gyroscope pitch, roll & yaw, etc. to video. The process also produces a geotagged media (KML file) that is synchronized to video and can be viewed in Google Earth to see the exact locations where videos were taken.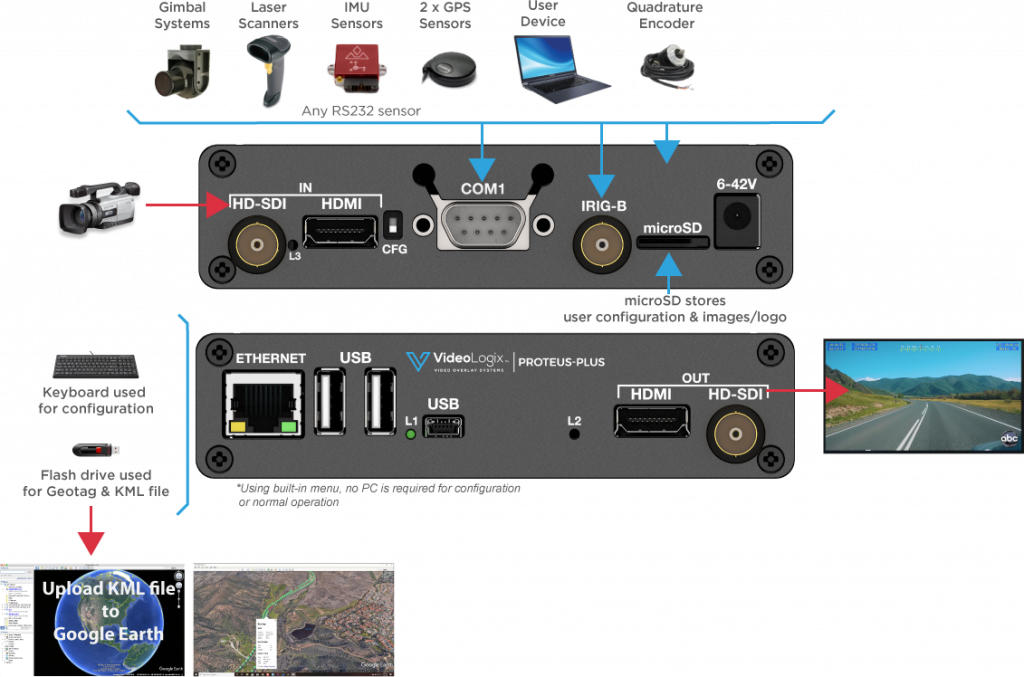 More Information
VLPROTEUSPLUS - Specification
General
General Features:
Full High Definition Video Overlay
Stand-alone operation i.e. no PC required
Simple user interface for configuring screen via USB keyboard
Overlay data from any GPS modem ($GPRMC, $GPGGA, $PTSAG, etc.)
Overlay data from NMEA 0183 sensors ($GPWPL, $GPGSV, $GPGGL, $SDDPT, $SDDBT, $WIMTW, $WIMWV, $VNINS, $VNIMU, $VNYPR, $PTNTHPR, $HCHDG, $HCHDT, etc.)
Overlay data from NMEA 2000 sensors (PGN 129029, 129025, 128259, 130323, 128267, etc.)
Overlay values from CSV sentences received via RS232, USB, Ethernet
Overlay texts such as user titles, time, date, latitude, longitude, etc.
Jam Sync Timecode with GPS, IRIG, RTC
Overlay PNG & JPG images
Superimpose composite (NTSC/PAL) video input over HD video input (PIP)
Generate KML file with multiple user defined place markers
Built-in Compass and Tilt (Pitch & Roll) sensors
User configurable fonts
Over 30 drawing commands through RS232, Ethernet, USB
Battery backed up real time clock (RTC)
Per pixel alpha blending
1920 x 1080 OSD overlay resolution
Video:
HD-SDI input
HD-SDI output
HDMI input
HDMI output
Composite input (Viewable only as PIP over HD video input)
1080i @ 50, 59.94, 60 Hz
720p @ 50, 59.94, 60 Hz
1080p @ 23.98, 24, 25, 29.97, 30 Hz
480i (NTSC), 576i (PAL)
Fast video input to output delay i.e. 0.5 μ
Communication Ports:
2 x RS232
1 x CAN
1 x USB2.0 Device
2 x USB2.0 HOST
1 x Ethernet 10/100 (Static or DHCP IPv4 addressing)
1 x IRIG-B
Additional Features:
Analog Inputs: Convert analog inputs to speed, depth, pressure… 2
Quadrature Inputs: Convert count to distance, speed…
Supported Devices: GD Cineflex, Bar code scanners, VectorNav GPS/INS, Smartmicro radar
Apps: XY Measurements, Reticle, Rov situation awareness, Aerial situation awareness, Count up/down timer
Graphics Widgets: Slider, Compass
Generate KML for Google Earth: Geotag, Georefer
Design + Dimensions:
Box Dimensions (mm) 125 x 106 x 30
Weight (1lb)
Power (6-42VDC, 4W)
2-year warranty
Operating Temperature Range: 0-65°