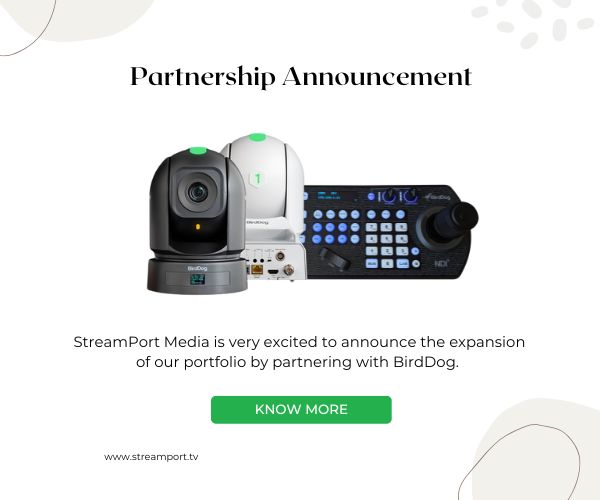 As technology expands, Streamport Media is very excited to announce the expansion of our portfolio by partnering with BirdDog.
BirdDog is a global video technology company that enhances the quality, speed, and flexibility of video through a range of solutions, augmented with NDI® (Network Device Interface). This enables video-compatible products to communicate, deliver and receive high-definition video over a computer network in a high-quality, low-latency manner, that is frame accurate and suitable for switching in a live production environment. End users of BirdDog's products cover a wide range of market segments, including Professional Video, Broadcast, Audio Visual and large private and public sector organizations.
BirdDog PTZ cameras incorporates Sony Exmor R broadcast senses capable of increased light sensitivity is among several innovations included in BirdDog's latest NDI PTZ cameras. Multiple IP output formats range from NDI, to SRT, H.264. NDI, SDI and HDMI outputs are supported for live production work. UVC USB works in conjunction with Zoom and Teams type applications. Soon to be added to the range of cameras is a BirdDog cloud subscription, allowing users to access the PTZ cameras and all its features from anywhere in the world.
Together with BirdDog, Streamport Media can offer solutions for the Pakistan/West African regions and custom build any application to suit your requirements whether locally and/or in the cloud.
For more information on BirdDog, please visit our website.