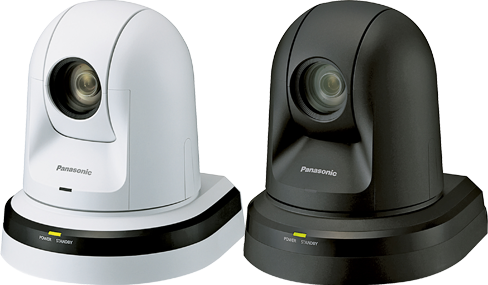 NewTek's NDI is being seen increasingly as the de facto standard for live video production, and evidence of the take-up is mounting. Here's just one, significant, example.
Panasonic has just announced the arrival of a complete range of professional PTZ (Pan / Tilt /Zoom) cameras with built-in NDI (Network Device Interface) support.
A quick reminder: NDI is NewTek's video over IP ecosystem that features low latency and high quality video over "traditional" IP networks. It provides a way to make real time connections between NDI enabled video devices, and features an extremely efficient codec designed to retain quality while maximising the number of channels that can be carried on any given network infrastructure.
Version 3 of NDI has just been announced, bringing new features like multicast, as well as high efficiency mode, for even better use of available bandwidth.
NDI can carry both video and control signalling for PTZ cameras.
PTZ cameras can be controlled remotely and are ideal for automated studios. Don't confuse these Panasonic cameras with similar-looking security cameras: professional PTZ cameras can have fully broadcast specification.
What's significant about the cameras Panasonic has just announced is that NDI is fully integrated. This means that with only minimal configuration they're able to join an NDI network and be found by any NDI destination such as a TriCaster, where they will appear in a menu list of available sources.
The range tops out with the memorably named AW-HN/HE40, which has an impressive 22x zoom, HDMI and IP connectivity.
All the "N" cameras have an NDI mode that optimises the cameras for best performance and full compatibility over an NDI network. The single connection to these cameras carries low latency video, audio, PTZ control, Tally and power. These will be easy cameras to install.
We're impressed by Panasonic and NewTek's ability to work together and by Panasonic's commitment to this de facto standard for video over IP interoperability.
Read Panasonic's full press release over the page.
Panasonic takes a leap forward with built-in NDIsupport
Panasonic has announced the introduction of a full line-up of professional integrated cameras with built-in Network Device Interface (NDI) support.
With fully integrated support of NDI version 3, enhanced with a new high efficiency mode, it allows users to connect Panasonic professional PTZ cameras directly to an NDI network. With automatic detection by the NewTek TriCaster® and NewTek's IP Series of professional video switchers, the new cameras seamlessly integrate with the hundreds of other NDI-capable products, enabling NDI-based video production workflows without any additional configuration.
The AW-HN38, AW-HN40, AW-UN70, and AW-HN130 join Panasonic's market leading existing PTZ models, and will be available in both black and white colours. The AW-HN38 is an addition to the PTZ line-up as a high-value, premium quality model with a powerful feature set similar to the AW-HN/HE40, but with 22x Zoom, HDMI and native IP connectivity.
The "N" cameras will feature an NDI mode within the camera menu that reconfigures the settings for best performance and full compatibility on an NDI network. It means a single cable workflow, enabling very low latency video, audio, PTZ control, tally and power all over one cable.
"With NDI Version 3, NewTek is making IP Video a complete end-to-end offering for customers, highlighted by our relationship with Panasonic and their next generation products. We have collaborated closely with Panasonic over the years, bringing its de facto industry standard for robotic PTZ control and image quality to the millions of end users who have NDI enabled products," said Dr. Andrew Cross, NewTek President and Chief Technology Officer. "Panasonic PTZ cameras with NDI built in are the realisation of the dream of a more efficient and better way to produce a show."
Among the hundreds of NDI capable devices is the Panasonic AV-HLC100 switcher, introduced by the company at NAB 2017 and available in late Autumn. Combining NDI enabled Panasonic PTZ cameras in conjunction with the AV-HLC100 switcher will provide a unique next generation workflow, offering full end to end IP connectivity from capture, live production, right up to end user delivery and streaming.
"Panasonic has innovated with its professional remote production cameras and systems from the very first generation," says Nela Pertl, Panasonic Broadcast & ProAV Marketing Manager EMEA. "This is big leap forwards, enabling truly remote production from almost anywhere."
Customers who have purchased or will purchase the standard versions of the AW-HE40, AW-UE70, AW-HE130 can visit NewTek's website (new.tk/ndi_panasonic) in Autumn 2017 to upgrade and enable NDI capabilities for these camera models.
The NDI enabled camera line-up is available from autumn (AW-NH40/AW-UN70) and winter (AW-HN130).
Brought to you by StreamPort Media reseller and distributor of Panasonic professional audio and video products in the Dubai UAE United Arab Emirates.